Cats And Their Climbing!
Your cat is your furball of fun, which gives you unconditional love (on their terms, of course) and demands nothing from you in return. Other than food, shelter, and being available whenever they call you, and being left alone at all other times. 
DISCLOSURE. This post contains affiliate links. Should you access a product through my links, I may make a commission at no added cost to you.
As cat owners, you teach them to stay off the table and counters with water bottles in hand, but we all know when you're not around, they walk on everything with pride while glaring down at the dog.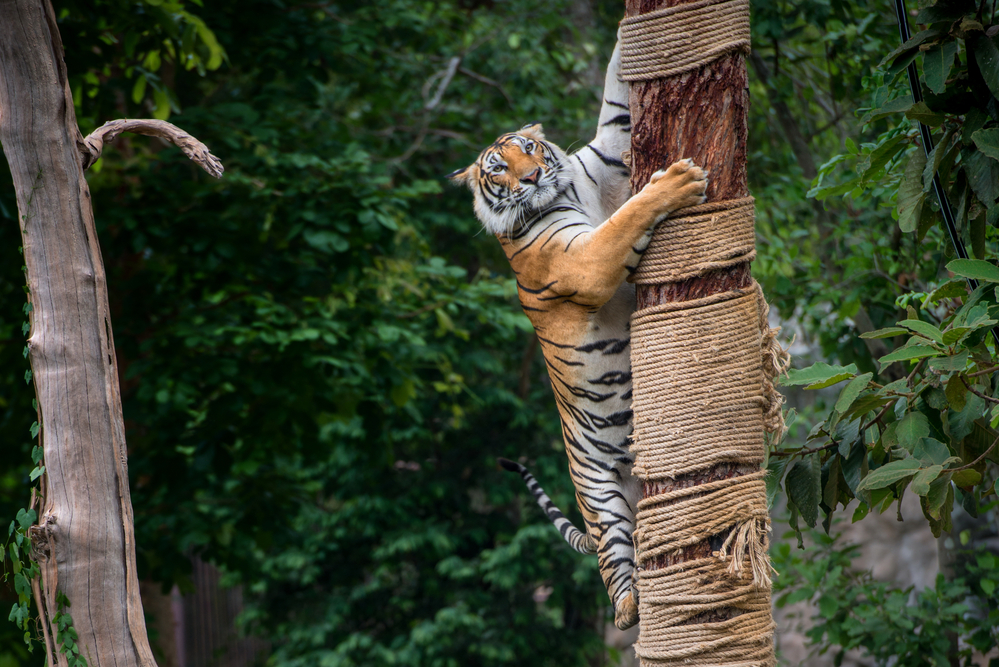 In reality, your cat's instinctual nature remains embedded in the ancient roots of its ancestors.
Buried deep within their DNA, cats continue to possess an innate drive to hunt and forage, a remnant of their wild counterparts who prowl through jungles and savannas in pursuit of sustenance and refuge.
By observing your pet's seemingly innocent antics, such as jumping onto tables and counters, you are reminded of the power they embody.
Give your beloved fur baby the respect it deserves and allow them to tap into these primordial instincts.
Cat Shelves Are Just an Extension of Your Furniture Decor
How can you help them tap into these said instincts? By providing them the opportunity to climb, perch, survey from above, and hunt the other animals in the house from above. You need to invest in wall shelves for cats!
Cat shelves on walls provide not only endless entertainment and exercise opportunities for your cat but also offer numerous benefits, such as satisfying their natural instincts and promoting physical activity in a safe environment. But how do you choose the perfect cat wall furniture?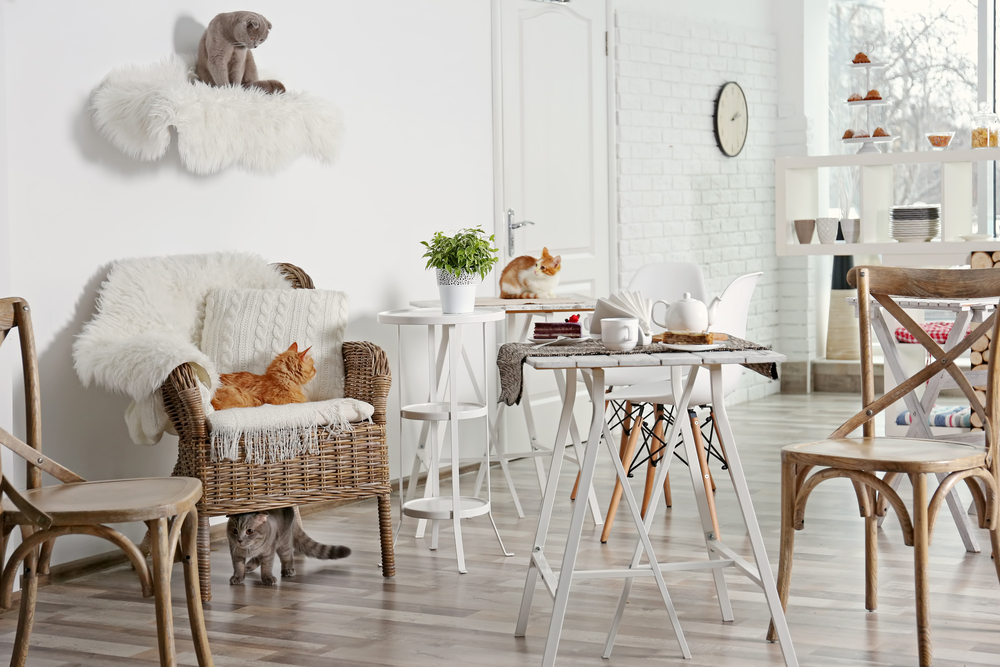 As you read on, you will learn all you need to know about cat shelves. There are several factors to consider before you make that first purchase.
These include length requirements based on your cat's size, (mine are big bundles) sturdiness considerations depending on the number of cats using it, and suitable material types for different environments.
And finally, don't miss my top 7 picks of wall-mounted cat shelves that are sure to entertain both you and your feline companion!
Benefits of Cat Shelves on Walls: More Than Just a Perch
Alright, let's talk about the magic of cat shelves. You may view them as just another kitty furnishing that your cat may or may not acknowledge.
However, they offer much more than that. If you're not sold on the idea just yet, take a look as some key benefits that will make your feline friend purr with delight.
Satisfying Natural Instincts: Channeling Their Inner Leopard
Cats are natural climbers and love to perch in high places – it's in their DNA. Cat shelves provide them with vertical space to satisfy this instinct and keep them entertained for hours. Maybe one day they will actually show their appreciation for their new perch? I know, it's doubtful.
Establishing Social Hierarchy Among Multiple Cats: The Feline Game of Thrones
If you have multiple cats at home, cat wall shelves can help establish a social hierarchy by providing separate perches for each fur baby.
This way, there'll be less hissing and more harmony among your feline companions. Installing cat shelves is a great way to keep the peace. We hope, anyway. It kind of works that way in my house.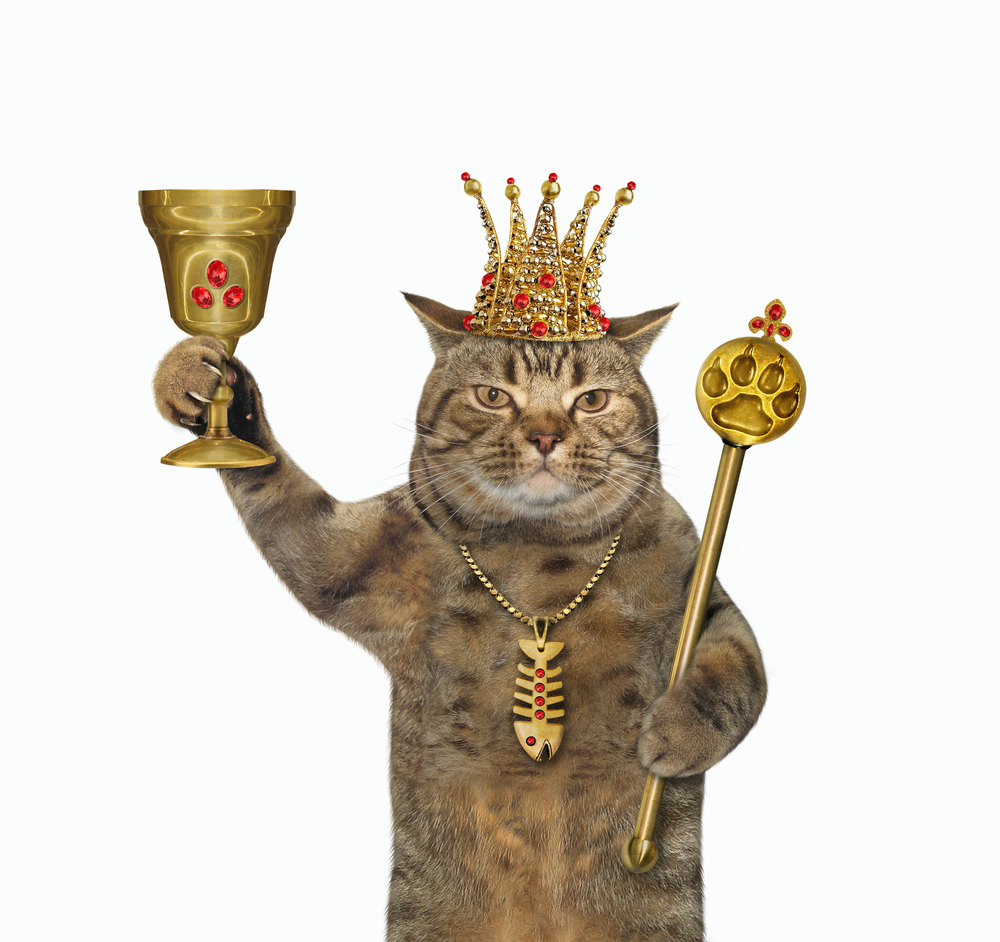 Promoting Safety and Confidence: A Safe Haven Up High
Cat shelves give your pets a sense of security by offering an elevated spot where they can observe their surroundings without feeling threatened or vulnerable.
Cats love to climb, and having a floating cat shelf will give them the perfect spot to do so. Your cat will feel like the king (or queen) of the castle when lounging on their floating throne.
Another key benefit that I love about these, is they really do save floor space. And who doesn't need more floor space?
Factors to Consider When Choosing Cat Shelves
Alright, let's dive in. We've already established why cat shelves for walls are a great idea for keeping your cats happy and healthy.
And, they make an interesting home decor conversation piece. H
However, there are some crucial factors to consider when selecting the perfect cat shelves for your fur baby.
Here are some essential tips:
Size: Consider the size of your cat and the available space in your home. You want to make sure the shelves are big enough for your cat to comfortably rest on and that they fit in the desired location.
Material: Look for shelves made of sturdy materials such as wood or metal. Avoid shelves made of cheap materials that may break or harm your cat.
Installation: Consider how easy it is to install the shelves. Some shelves require drilling, while others are easy to mount with adhesive strips.
Design: Choose a design that complements your home decor. There are various designs available, including floating cat shelves, cat wall furniture, and cat trees.
Cubby Holes: Look for shelves with cubby holes or hiding spots. Cats love to hide and feel secure in small spaces.
Weight Capacity: Make sure the shelves can support the weight of your cat. Most shelves have weight limits, so be sure to check before purchasing.
Price: Consider your budget when selecting cat shelves. There are various options available at different price points.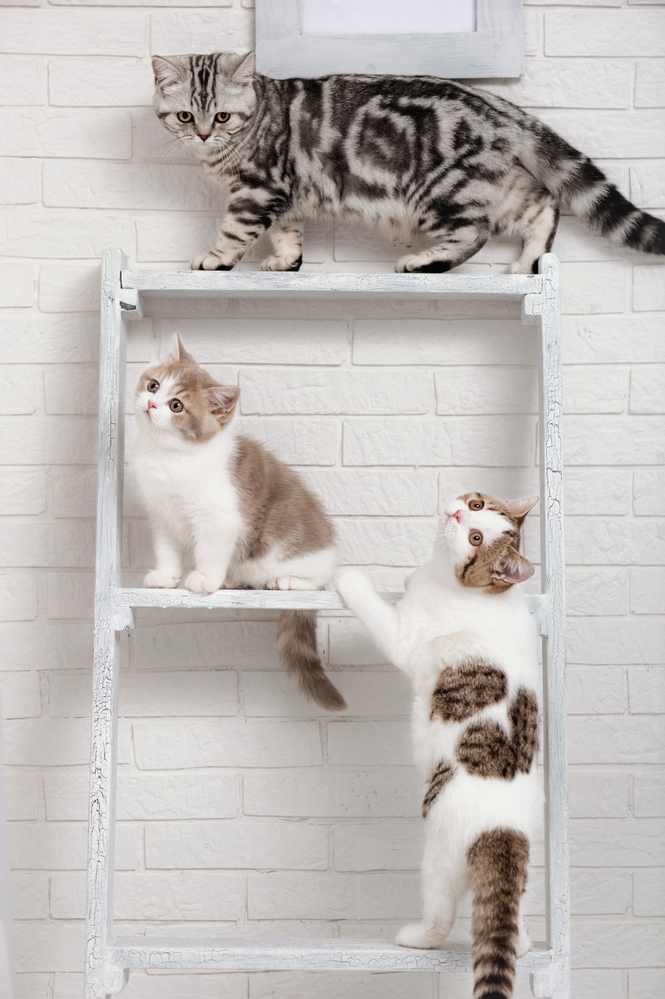 Popular Types of Cat Shelves on Walls
Modern cat shelving solutions come in various styles designed not only to cater to individual feline preferences but also to blend seamlessly into contemporary homes without creating an overt "cat sanctuary" aesthetic. Although I personally see no problem with that!
Some popular options include over-the-radiator models, tension rod designs, door-mounted alternatives, and DIY versions that allow for customization using materials like wooden boards combined with sturdy brackets. But, I don't go into detail with these types, I hit the most popular and fun one!
Tell Me!
This post targets the most popular types, which include installing onto vertical wall space. These blend into your room design as extended pieces of wall furniture.
Selecting the right type of shelf depends on factors such as available wall space, personal design preferences, and your domestic cat's unique climbing habits.
Cats love a high perch, and installing cat shelves or other cat wall furniture can give them a fun and safe way to explore their surroundings.
If your cats are anything like mine, you know that a typical cat tree alone is not enough exercise.
It's great when you first buy it, but they lose interest very quickly and start searching for the bread ties.
I found my cats love to climb and hide in tunnels, so my cat shelves on walls appease their cunning interests.
Placement Tips for Maximizing Enjoyment & Utility from Installed Cat Shelves
Let's talk about the purr-fect placement of your cat shelves.
Firstly, avoid installing them too high or spaced too far apart, as this may discourage your feline friend from using them.
Remember, cats love to climb and need multiple ways to climb up and down comfortably – so be mindful of their accessibility.
Pro tip: Positioning perches near windows is a great idea because it allows your kitties to observe their surroundings while feeling safe and secure. This not only provides entertainment but also promotes mental stimulation and reduces boredom.
If you're unsure where to start with installing cat shelves in your living room or other areas of the home, check out these helpful tips.
Incorporating vertical space into your home decor will benefit both you and your feline companion by saving floor space and providing an enriching, natural environment for your domesticated jungle cat.
Top 7 Cat Shelves for Walls
You're reading this post because you want answers! Well, I researched for you. Below are my top 7 favorite cat shelves for walls.
Keep in mind there is a wide range of possibilities. I put together the top 7 cat shelves that are fashionable, affordable, and enriching. So without further ado, take a look!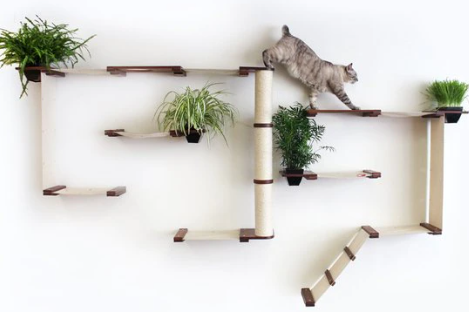 The fabric is removable and washable.
The brackets are hidden to give the illusion that the complex is floating!
Weight tested for the safety of your cats.
Comes with easy mounting instructions.
Includes 4 planters for cat-friendly plants.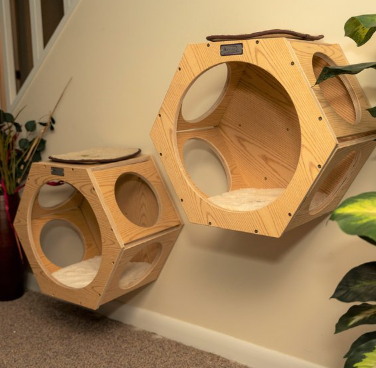 Constructed from durable solid poplar.
Includes a set of two shelves.
Can be mounted separately on the wall or on the ground.
Wall-mounted shelves allow cats to climb, jump and rest.
Removable and washable mat for extra comfort.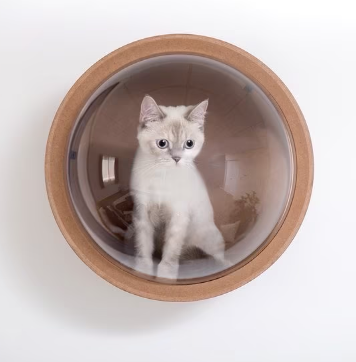 Mount this cozy cat bed on a wall or stand it up on the floor.
This wooden cat furniture piece is designed with feline needs in mind.
Original, modern design complements any décor.
Acrylic dome lets kitties look out and lets you see in, too!
Helps keep cats cozy and warm while allowing air to circulate.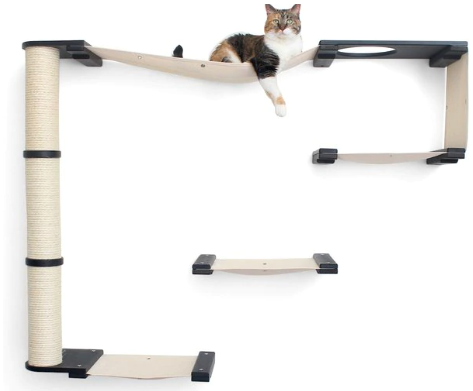 Since it mounts to the wall, it creates more vertical space for your kitties to roam, which also creates more floor space for you.
Weight tested for the safety of your cats.
The fabric is removable and washable.
The brackets are hidden to give the illusion that the set is floating!
Comes with easy mounting instructions.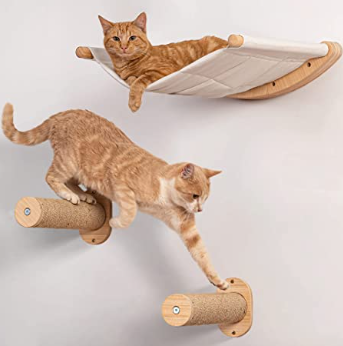 Like a Regular Cat Wall Hammock but Stronger; extra sturdy cat wall perch, supports up to 2 cats [fixings included]
Includes 2 x High-grip Cat Wall Steps for Climbing covered in thick woven jute rope so cats feel safe as they climb
Reversible & Removable Cat Wall Bed. Use both sides to half washing; 100% cotton canvas handwash only
High-comfort Wall Mounted Cat Bed padded for extra luxury; cushion also be bought separately for this wall mount cat perch for indoor cats
Double-stitched Durability – reinforced large cat shelf for wall hammock help big cats to feel more secure and supported in the cat hammock bed
Sustainable Wood cat shelves and perches for wall in Neutral Colors; blends with any décor, and cats love natural
Gives your Kitten Exercise – our wall mount cat furniture and shelves provides fun and adventure. Use it on its own or create a cat climbing wall; 7 Ruby Road sells other cat wall furniture for indoor cats
Helps a Cat to Survey its Surroundings with the cat climbing shelves included – a cat's nature is to look down from above so it feels safe
Grows with Kitty into Adulthood – having lots of space, this cat shelf with wall hammock set will be loved for years
Cleverly designed for Standard US homes – most US homes have wood studs that sit 16 inches apart. Our hammock mounts securely into two 16" studs for maximum security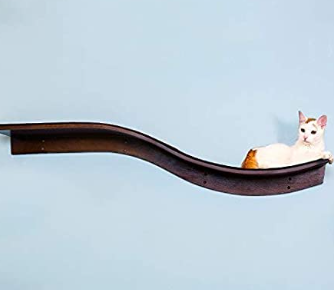 🐈 LONG AND MODERN CAT WALL SHELF. At 60.25" long and 10.5" deep, this curved cat wall shelf from The Refined Feline provides cats plenty of space to perch while looking like art along your wall.
🐾 STURDY AND DURABLE. Feel confident that cats of all sizes are secure with the Lotus Cat Shelf's thick bent-ply design and solid wood base. It can easily support up to 50 lbs.
🐈 COMFORTABLE CARPET IS REPLACEABLE. The comfortable carpet attaches to the top of each cat shelf with a velcro-like material and can be replaced if worn. The berber material is easy to wipe clean, and the white model comes with a white faux fur covering that can be washed.
🐾 CREATE A CATWALK ALONG YOUR WALL. Place multiple Lotus Branch Cat Shelves along your wall or mix and match with complementary products like the shorter 22-inch Lotus Leaf Cat Shelf. Watch your cats climb and jump from shelf to shelf and perch from high above as they pick their perfect place to lounge along your wall.
🐈 WALL ANCHORS PROVIDED. It is recommended to screw the cat shelf into wall studs for added support. The screw holes are 16″ apart. Heavy-duty wall anchors are provided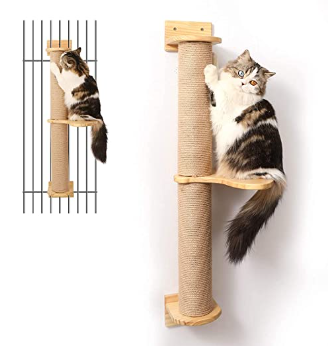 LARGE SIZE – 36.6 inches. Tall enough to enable the cat to get a full stretch. And the hammock design makes the scratching post suitable for cats of all ages. Kittens, Prime, mature, and senior cats can scratch, play and take naps on it
MODERN CAT FURNITURE – Compared to other ordinary cat trees which clutter your living space, it's stronger and safer for your cats
STURDY& SAFE – Made of pine and Jute, which is Natural and environmental protection. Easy to install and multi-purpose. It can be adapted to any wall or cage as long as going with the right screws
DIY Assembly – The Jute Scratching Posts renewing and restructuring are easy. Set up a beautiful cat wall, including Cat Bridge Lounge Platform, according to your idea
QUALITY ASSURANCE – Trying for 1 month, and if there is any quality problem, send it back, and you'll be fully refunded for your purchase
Pick one or mix and match to create the perfect vertical space for your kitties.
FAQs about Cat Shelves on Walls
Are Cat Shelves a Good Idea?
Yes, cat shelves are an excellent idea for providing cats with vertical space to climb, explore, and rest. They promote physical activity, satisfy their natural instincts, and help establish social hierarchies among multiple cats in the household. Additionally, they can enhance your home's aesthetics by blending seamlessly into your decor.
Can I Put Cat Shelves on Drywall?
You can install cat shelves on drywall using appropriate wall anchors or brackets designed to support the weight of both the shelf and your pet. Ensure that you follow manufacturer guidelines for installation and weight limits to maintain safety and stability.
What Are the Benefits of Cat Shelves?
Satisfying cats' natural instincts to climb
Promoting physical and cognitive activity
Establishing complex social hierarchies through vertical positioning
Saving floor space in smaller homes or apartments
Aiding mental stimulation by offering new vantage points
How Far Apart Should Cat Wall Shelves Be?
A distance of 12-16 inches is recommended; however, consider factors like your pet's size, age, and agility levels when determining optimal distances.
Cat Shelves Wrap Up
I hope if you were on the fence about purchasing cat shelves, you made the awesome decision to move forward!
As I said earlier, cat shelves for walls are an excellent way to provide your cats with a safe and stimulating environment.
By installing cat shelves, you can satisfy their natural instincts to climb and explore elevated spaces while promoting physical activity. Plus, the cats are super fun to watch as they learn how to maneuver their new digs!
If you installed cat shelves in your home, let us know how it worked out for you below! And please sign up to my community to never miss out on what I come up with next!
If you recently adopted a new kitten and need some tips of how to introduce it to an older cat, check out this post! How to Introduce an Adult cat to a new kitten.